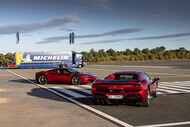 MICHELIN FOR THE NEW FERRARI 296 GTB
BESPOKE TYRES FOR AN EXCEPTIONAL CAR
As one of the world's foremost luxury and performance car manufacturers, Ferrari has spent 75 years constantly pushing the boundaries of road-going sports cars. Michelin has been developing tyres for the company for nearly 50 of those years. The exacting standards demanded by Ferrari have required extensive collaboration in order to provide innovative solutions. Michelin has risen to this challenge by pooling its cutting-edge technology along with skilled engineers, wheel assembly expertise, measuring technologies and a passion for performance. And then there is also a dedicated team of test drivers that helps ensure expectations are exceeded.
The Ferrari 296 GTB is a perfect example of the Ferrari-Michelin collaboration at its finest.
MICHELIN Pilot Sport 4 S K1 and MICHELIN Pilot Sport Cup 2 R K2
Two bespoke tyres for an exceptional car, the Ferrari 296 GTB
Michelin has been chosen by Ferrari as an official tyre supplier for its new 296 GTB. As a result, Michelin will supply two different tyres for the car – the MICHELIN Pilot Sport 4 S K1 for predominantly road driving, and the road legal MICHELIN Pilot Sport Cup 2 R K2 for drivers wishing to push the limits of their car on track. With the launch of each new model, Ferrari tops the performance of the previous generation. Michelin shares the same philosophy and has been taking up the challenge alongside the car manufacturer for many years, designing special made-to-measure tyres.
Performance
For such an exceptional car, tyre performance is a lot more than merely a functional aspect. In the quest for ultimate performance, it is a determining factor, providing safety, precision and driving pleasure while being perfectly tuned to the vehicle's style.
A specific development
The Ferrari 296 GTB tyres were specially designed in a joint project with the Ferrari teams, and they are identified by Ferrari's own marking with the 'K' symbol on the sidewalls of the tyres. Bespoke design was the only solution to achieve the performance levels demanded by Ferrari.
The Michelin teams were involved right from the start of the project from the moment the technical specifications were defined. It took four development cycles and 18 months to design the tyres which are now approved for sale. The use of highly advanced, cutting-edge simulation tools was an important factor. They enabled a significant reduction in the environmental footprint of the project due to the manufacture of fewer prototype test tyres, while also reducing the number of physical tests and development time. The simulator also enabled the tyres to be fine-tuned for the vehicle with great precision.
Two tyres, two types of usage
Michelin has developed two innovative components and two special technologies to create two tyres with very different uses and has done so under the Group's all-sustainable strategy:  reduced use of raw materials, lower rolling resistance, reduction in the number of tyres manufactured and the number of physical tests carried out.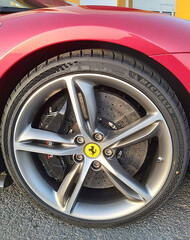 MICHELIN Pilot Sport 4 S K1, a high-technology tyre for everyday use
Recognized for its performance on road and also suitable for occasional circuit use, this tyre gives the car an excellent balance between grip, control and driving pleasure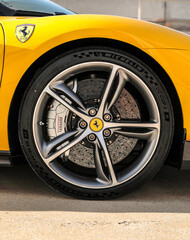 The road-legal racing tyre, MICHELIN Pilot Sport Cup 2 R K2
It benefits from a mix of special rubber compounds composed of functional elastomers to obtain a more homogeneous material.
These two tyres use innovative technologies developed by Michelin:
Dynamic Response Technology: a hybrid belt of Aramid and Nylon ensures optimum transmission of steering instructions onto the road
Multi-Tread Compouding: multiple compound types across the tread - on the outside for dry traction and on the inside for wet traction
Wavy Summit: a rubber addition under the steel cable to decrease tyre response time and improve the "sporty" feeling
 
Equipment
FRONT: 245/35ZR20 (95Y) XL TL PILOT SPORT 4 S K1
REAR: 305/35ZR20 (107Y) XL TL PILOT SPORT 4 S K1 
 
or
FRONT: 245/35 ZR20 (95Y) XL TL PILOT SPORT CUP 2 R K2
REAR: 305/35 ZR20 (107Y) XL TL PILOT SPORT CUP 2 R K2
MICHELIN & FERRARI - One goal: performance
Commenting on the project, Hervé Charbonnel, MICHELIN tyre development engineer on the new Ferrari 296 GTB said: "It was a challenge and a great adventure. The demands of the Ferrari engineers led us to use the best of our technology to develop the special MICHELIN Pilot Sport 4 S K1 and MICHELIN Pilot Sport Cup 2 R K2 tyres. Thanks to our know-how associated with the use of simulation techniques, we were able to push the limits of grip with a new optimization of the tread, while providing precision and the sensations of sports driving that are such crucial characteristics of Ferrari." 
MICHELIN x Ferrari 296 GTB – One goal: performance
Michelin develops OE (Original Equipment) marked tyres for Ferrari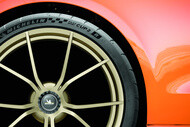 MICHELIN K1 - K2 or K3 OE marked tyres
Designed specifically by Michelin engineers in close collaboration with Ferrari.

FERRARI-approved tyres for your vehicle can be purchased from specialist websites and stores
Search by
Address, City or ZIP code
Michelin & Ferrari collaboration history
Over 50 years of collaboration
Michelin has been developing tyres for Ferrari for over 50 years. The 1964 Ferrari 275 GTB was originally fitted with MICHELIN tyres.
In the last 20 years, Michelin has been present as Original Equipment tyre supplier on a large number of Ferrari models:
550 Maranello (1996)
456M (1998)
360 Modena (1999)
575M Maranello (2002)
F430 (2004)
599 GTB Fiorano (2006)
California (2008)
458 Italia (2009)
599 GTO (2010)
FF (2011)
F12 Berlinetta (2012)
458 Speciale (2013)
California T (2014)
488 GTB (2015)
GTC4Lusso (2016)
Portofino (2017)
812 Superfast (2017)
488 Pista (2018)
F8 Tributo (2019)
SF90 Stradale (2020)
Roma (2020)
812 Competizione (2021)
Portofino M (2021)
296 GTB (2022)
 
Ferrari models exclusively fitted with MICHELIN tyres at the factory:
Ferrari 599 GTO (2010)
285/30 ZR20 (99Y) XL TL PILOT SUPER SPORT K1 MI
315/35 ZR20 (110Y) XL TL PILOT SUPER SPORT K1 MI
 
Ferrari 458 Speciale (2013)
245/35 ZR20 (91Y) TL PILOT SPORT CUP 2 K1 MI
305/30 ZR20 (103Y) XL TL PILOT SPORT CUP 2 K1 MI
 
Ferrari 488 Pista (2018)
245/35 ZR20 (95Y) XL TL PS CUP 2 K2 MI
305/30 ZR20 (103Y) XL TL PS CUP 2 K2 MI